THE BLUE SEAL
By Deborah Straw

On a perfect July evening, we ventured to an almost perfect Vermont restaurant, The Blue Seal in Rich-mond. Located in a red clapboard former Blue Seal Feeds building, the restaurant offers consistently fine, innovative food to evening diners. A small, intimate place, The Blue Seal's decor is wood and white, with few decorations. Pots of flowers adorn the front porch, and a small bar is in the left hand corner at the front. The restaurant, open Tuesday through Saturday evening, is almost always full. Reservations seem imperative, especially during peak tourist seasons.

I've never been disappointed in the food. Last week, my partner and I shared one appetizer, two entrees, and one dessert. Our appetizer was a grilled herb flatbread served with two delectable dips: sundried tomato and one of sour cream and artichokes. I could have easily made a meal of them alone. For entrees, we chose a roasted eggplant and green chili quesadilla and chili-rubbed chicken with potato fritters and a green bean side.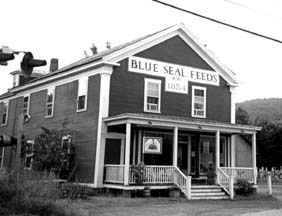 The chicken in its complex, heart-warming sauce, was one of the best dishes I've tasted in the last six months; the quesadilla, topped with a salsa, was tangy (not too hot) but the filling was a bit thin . For our dessert, we agreed to share Lemon Custard Napoleon: fresh blueberries and strawberries in a puff pastry shell, topped with lemon custard and real whipped cream. It was mid-summer sweet perfection. They also make their own ice cream.
Accompanying all meals is a basket of homemade breads (white and zucchini on our visit ) with a small pot of wonderful fruit chutney. With the bill always come tiny, exquisite sugar cookies; it's amazing what you can make with only sugar, butter and flour. We each had a glass of a California pinot noir, and the bill came to $50 and change.
The only two criticisms I've heard of this small eatery are that the train goes precariously close by every evening, tooting and gently rocking the building — I find this endearing — and that the portions are somewhat small. I find them perfectly adequate; in fact, I brought some quesadilla home for lunch.
I have no complaints about The Blue Seal. The dishes' presentation is beautiful; the ingredients are fresh and local (they have an arrangement with The Jubilee Farm of Huntington to provide produce and herbs); several dishes are vegetarian and/or fish based; the menu changes fairly regularly; and the staff is gracious and low-key. There is no pressure to hurry, but rather a welcome to linger, to savor a perfect Vermont night in a near-perfect dining establishment. The Blue Seal always earns my seal of approval.
The Blue Seal, Bridge Street, Richmond, VT 05477 802-434-5949.


Cover Other issues Editorial mission Information for advertisers Links Directory Calendar Submission guidelines

Suggestions? Send us email