Believing in the Waters: Saratoga's Lincoln Mineral Baths
By Susan Beal

One day last March, my friend Betsy and I had had enough of winter's deprivations, and decided to check out the healing waters of Saratoga's Lincoln Mineral baths. Outside, the rain leached warmth and color from the landscape. It was the kind of weather that seals people inside themselves, arms wrapped tightly, heads down, hurrying. In delightful contrast we floated like babes in wombs inside the white marble building in Saratoga State Park. While winter Scrooged it up outside our windows, we unfurled, in warm, emerald green, effervescent water, scented with juniper and sage. The porcelain tub I lay in was magnificent—deep enough to hold water up to my neck, long enough that I had to stretch my tip toes out to keep myself from bobbing under if I shifted my position. The carbonated water made my body almost weightless, buoyed up by millions of tiny bubbles that gathered in a silvery sheen on my skin. Pure luxury. Pure bliss.

I called over to my Betsy, submerged in her own tub in the neighboring cubicle. "It's like bathing in fragrant champagne," I said, and she giggled with me at the sensation of the bubbles sliding upwards along our backs and legs. My head rested on an inflatable pillow suction-cupped to the tub. The water, at body temperature, soothed me into a trance-like state, and the gristle of knotted emotions melted away as surely as the tension in my muscles. Around me I could hear the pleasant splash and gurgle of other tubs being filled and drained, and the quiet murmur of fellow bathers.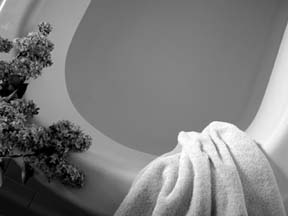 I had thought the light green color of the water was from the aromatherapy combination I had chosen from an intoxicating array of essences—lavender, eucalyptus, orange, jasmine, and more—which can be added to the bath while it is being drawn. It turns out that the water is naturally the color of pale emeralds, and naturally carbonated, as well. We were told that water heated to body temperature is ideal for inducing relaxation. Too much hotter is enervating, while too much cooler is more invigorating than most of us would want for a leisurely soak.
Our baths had been drawn by a warm, motherly woman named Marian, who ushered us in to our private cubicles, then left us for the allotted 20 minute soak. When my time was up, she returned, and held out a huge, pre-warmed, cotton towel as I climbed out (partly as a modesty curtain, I suspect) and wrapped me in it like my mother used to do when I was tiny. "Now, you just wrap up in your robe, and your massage therapist will come to get you when you're ready," Marian told me.
I was still trying to figure out how to walk in the white paper slippers that came with my terry robe when the massage therapist arrived to lead me to the massage room. He offered me a choice of fragrant or unscented oils, put soothing music on the tape player, then worked me into an even deeper state of relaxation for the next half hour.
The bathing area at Lincoln Mineral Baths, at least when we visited (in April they did some remodeling), was done in the style of high-school locker room chic. That is, slightly industrial, no-nonsense, quarry tile floors, with painted steel partitions that created separate dressing rooms and bathing areas for each bather. The walls were a soft pink, with high windows along one side that let in lots of light. Betsy and I were surprised. We had expected, perhaps, a more self-conscious resort/spa ambience—soft lighting, plants, decorator colors, plushness. Yet the spareness was actually refreshing in its sensible functionality. You are here to take the waters, after all, not to waste time and money on irrelevant frills. And the price for a bath is equally refreshing—$16.00 gives you 20 minutes in the tub, $5.00 extra gives you your choice of aromatherapy essences added to your bath. Either way, you are pampered and coddled like a royal personage. Massages, algae wraps, and other extra services are also reasonably priced. Unfortunately we have not been back to check out the new decor. My opinion is that delightful as the new decor may be, it can hardly improve on the experience.
On the way back to my cubicle after the massage, I stopped in to visit Betsy, who was getting an algae body wrap—quite exotic! She had been thoroughly spackled in a green seaweed paste, swaddled in various layers—a towel against her skin, a layer of plastic wrap, a cotton sheet and then what looked like a space blankets. The seaweed itself is a kind that comes only from the French coast of Brittany, where it is gathered, dried, and ground into powder. The idea is that the seaweed, mixed with water to form a paste, absorbs toxins, improves circulation, and nourishes the skin. A good part of the benefit Betsy got from the treatment must surely have come from Fran, the friendly woman who administered it. Fran seemed devoted to the "waters" as did Marian. Betsy asked Fran if she got to soak very often, and Fran replied "Oh, yes! I do, every chance I get. I believe in the waters."
I returned to my cubicle, where I lay on my chaise lounge, covered in warm sheets. I felt like a queen, or perhaps a cherished child, and I couldn't decide what had the most healing effect—the water, or the kindly, competent women who worked at the baths.
After Betsy had basted for 45 minutes, she was unwrapped and climbed into another tub of mineral water for rinsing. The water reacted with the algae with an explosive fizz that I could hear in my cubicle across the way. Fran wrapped Betsy up in a hot towel, and led her back to her cubicle beside mine, saying, "You just lie here and relax, and have yourself a nice nap."
I couldn't resist padding in to visit Betsy during naptime. We reclined and chatted quietly about the pleasures of the baths. Betsy's skin smelled like the open ocean, and her face glowed with relaxation and contentment. We wished we could have had the option of sharing a cubicle in side-by-side tubs, or better yet, a communal bath. I have often longed for the modern day, American equivalent of Roman baths, or the mystical Turkish hammam that I have read about, where women and men, segregated, bathe and lounge in casual intimacy. Privacy is nice, yet the chance to let down our guards in a more communal setting is a pleasure that we don't often get. Still, there is something uniquely delicious about the private bath, unwinding in uninterrupted, inwardly-focused reverie.
Taking the waters was immensely popular a century and more ago, and mineral spring resorts flourished around the country, as well as regionally. Brattleboro, VT, for example, was a mineral spring resort, home of the Brattleboro Hydropathic Establishment, established in 1846. Wealthy visitors came for the "water cure" and the healthy food until it closed in 1871. Clarendon Springs, VT was famous among the Southern aristocracy for its mineral water, which was believed to increase fertility. The spa came to an end with the Civil War. Lake Shaftsbury, in southern Vermont, is created from a dammed spring, whose waters once were bottled and sold for their healing properties. In the Northeast Kingdom, Brunswick Springs is steeped in lore and legend about the six springs that were revered for their curative powers. According to local legends, the Abenaki put a curse on anyone who tried to make a profit off the healing springs, and history shows that at least three resorts built there burned to the ground. Sadly, most spas have disappeared. Saratoga's Lincoln Mineral Baths is one of the few remaining.
This is unfortunate. We are exposed to many more chemical and electromagnetic stresses than people were one hundred years ago. Our health is challenged by toxins in our food, our drinking water, and the air we breathe. We're also much faster paced, chronically pressed for time. Mineral water is thought to be healing not only because of its high mineral content which provides nutrients to the body through the skin, but because its electromagnetic field is balancing and revitalizing. Charlie Ryrie, in The Healing Energies of Water (Journey Editions, 1999), says that "Immersion in mineralized water can change the structure of the water in our bodies, making it able to receive the healing vibrations that are the source of our life force." Whether one "believes" in the waters or not, a warm bath in a big tub feels healing. The Lincoln Mineral Baths is most definitely a healing place.
Lincoln Mineral Baths is open Wednesday through Monday, 9-4, in June and September; Sunday – Friday 9-4 and Saturday 9-4:30 in July and August; and Wednesday through Sunday, 9-4, in October through May. Call (518) 583-2880 for appointments for mineral baths or additional spa services, such as massages, algae wraps, reflexology, herbal wraps and facials.
---
Susan Beal has found that soaking in a tub of fizzy water is a nice reward for the hard work of editing Planet Vermont Quarterly.
Cover Other issues Editorial mission Information for advertisers Links Directory Calendar Submission guidelines

Suggestions? Send us email