Rock Climbing in Vermont
by David Pearson


For mountaineers, Vermont has often seemed like a backwater. In John Harlin's climbing guide to the U.S., the east coast volume gives no mention of Vermont, while including chapters on the Adirondacks and the Gunks in New York, Cannon cliff and North Conway in New Hampshire, the Laurentides in Quebec, even Quincy Quarry near Boston. But Vermont is just a blank space on his map. So why should this matter, when Vermont has so many other outdoor activities to offer? For those who consider climbing to be the finest outdoor sport, it is a problem. The solution may not be to move to New Hampshire, however. During the Yosemite era in the 1960s, places like the Gunks, now world-famous, were considered pretty insignificant. The point is that the climbing world has its own winds of fashion, and while some places (Florida, for example) may objectively deserve being omitted from the climber's map, Vermont isn't one of them.

We'll start in an odd place, with the indoor climbing walls. Not because they're the best climbing experience, but because they're excellent places to start … climbing. Remember that hanging on to miniscule holds 100 feet up the side of a cliff is a much more dangerous place to be than walking through the woods. It doesn't have to be dangerous, with the right equipment, the right partner, the right climb, and the right training, but if you cut corners on any of them, you could die out there. The elemental forces of nature are not to be trifled with. Professionally run climbing gyms all have good equipment and can provide safety training to those who are starting out.

The oldest indoor climbing gym in Vermont is The Green Mountain Rock Climbing Center in Rutland. The 25-foot wall has a wide variety of the features of real cliffs, including corners, chimneys, cracks, friction slabs, and lots of face holds. It is even painted with outdoor scenes, which you might not like if you think of it as trying to replace a real view of nature, but is a delightful touch standing on its own. Two climbing gyms that have opened in the last year are Petra Cliffs, in Burlington, and The Wall, in Quechee. Petra Cliffs will be hosting a competition June 3 as part of the Junior Competition Climbing Association, open to climbers under 19. Both Petra Cliffs and The Wall have lots of climbing space and just about every type of climbing feature, making them great places to learn the ropes (literally), practice all the moves, get in shape, and meet other climbers.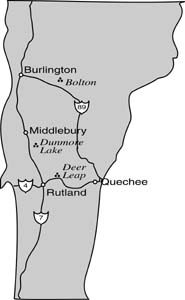 All three gyms also offer guiding, which is one safe way to begin climbing outdoors. Being outside, in a beautiful setting gives a different character to climbing. Real cliffs don't make the hand and foot holds so obvious, so there's more of a puzzle to decide exactly what route to follow. The real rock seems to connect you with nature in a very immediate way. And the safety system isn't built-in, our lives depend on our correct decisions, which requires from us a focus and attention to detail that can be almost meditative, pushing all the other thoughts of our unquiet minds out of the way for a time.
Where to climb? Here are three good cliffs: First, at Lake Dunmore, near Middlebury, in Branbury State Park. The cliffs here are granite slabs with excellent friction routes, and all can be toproped. It's a wonderful area for beginners (but remember, if you're a beginner you should only go out with a good teacher, a professional, or someone whose skills you'd trust your life to.) Farther north, east of Burlington is Bolton, which has both toprope and lead routes. The sharp features of the rock provides holds you can trust, but may also be a little intimidating to tender skin. And farther south, off Route 4 across from Pico Peak is Deer Leap, a quartzite cliff with excellent moderate to difficult routes (quartzite is the extremely hard conglomerate that's found at the Gunks).
If these aren't enough, Vermont is also close to several famous climbing areas in neighboring states. From Burlington, some of the best climbing in the Adirondacks is right across Lake Champlain, at Poke-o-Moonshine. From the east side of the state, New Hampshire's major cliffs are accessible within an hour or two, Cathedral and Whitehorse in North Conway and Cannon cliff in Franconia notch (the only cliff in the eastern U.S. with 10-pitch routes.) From the southern part of the state, Massachusetts' Rose Ledges in Deerfield have excellent toprope routes a short drive from Brattleboro, and the Gunks (more correctly the Shawangunks) in New Paltz, New York may be a 2-hour-plus drive, but are well worth the trip for their solid rock, their dramatic roofs, and the wide variety of routes at all levels of difficulty.
The Green Mountain Rock Climbing Center is at 223 Woodstock Ave. in Rutland, on the web at members.aol.com/gmrcc/, phone (802) 773-3343. The Wall is on Rt. 4 in Quechee, www.vermontrocks.com, phone (802) 457-2221 (see display ad below). And Petra Cliffs is at 105 Briggs Street, Burlington, www.petracliffs.com, phone (802) 65-PETRA
---
David Pearson was a climbing instructor for several years at Cornell. Now an editor of Planet Vermont Quarterly, he is dismayed to find that time working on the computer is taking over from time spent out of doors.
Cover Other issues Editorial mission Information for advertisers Links Directory Calendar Submission guidelines

Suggestions? Send us email